My Blog
Posts for tag: tooth decay
By North Suburban Endodontics
May 30, 2018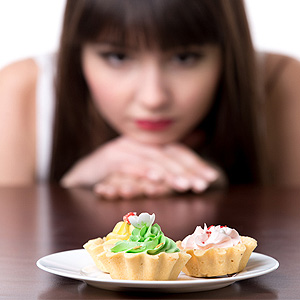 We've waged war for decades against tooth decay through oral hygiene and the increasing use of fluoride, nature's "super weapon" against this disease. And yet, tooth decay remains a significant health problem.
One major reason is refined sugar found in many processed foods. In the 1970s researchers raised concerns about the fat content of many processed foods, so manufacturers began removing fat from their products — along with much of the flavor. To compensate, they added sugar. Today, three-quarters of approximately 600,000 food products contain sugar.
This has increased average individual consumption to 90 pounds of sugar annually. The World Health Organization says we should consume no more than 20 pounds annually, or about 6 teaspoons a day. A single can of soda contains 4 teaspoons, two-thirds of the daily allowance.
High sugar consumption is an obvious threat to dental health: decay-causing bacteria thrive on it. But the trend has also been linked to serious health problems like diabetes and heart disease.
Hopefully, changes in public policy will one day modify the addition of sugar in processed foods. In the meantime, you can take action for yourself and your family to create a more healthy relationship with this popular carbohydrate.
Shop wisely. Learn to read and understand food labels: steer clear of those containing sugar or large numbers of ingredients. Become acquainted with sugar's many other "names" like corn syrup or evaporated cane juice. And maximize your shopping on a store's outer perimeters where you'll find fresh fruits, vegetables and dairy products, rather than the middle aisles with "boxed" processed items.
Avoid sugar-added drinks. Limit consumption of sodas, sports drinks, sweet teas or even juice to avoid added sugar. Make water or sugar-free beverages your go-to drinks. It's much better to eat sugar naturally found in fresh fruits and vegetables, where fiber helps slow it's absorption in the body, than to drink it.
Exercise. Depending on your condition, physical exertion is good for your overall health. It's especially beneficial for your body's ability to metabolize sugar. So with your doctor's advice, exert your body every day.
It's important to engender a proper relationship with sugar — a little can go a long way. Putting sugar in its rightful place can help you avoid tooth decay and increase your chances of greater overall health.
If you would like more information on sugar's impact on dental and general health, please contact us or schedule an appointment for a consultation. You can also learn more about this topic by reading the Dear Doctor magazine article "The Bitter Truth About Sugar."
By North Suburban Endodontics
March 03, 2018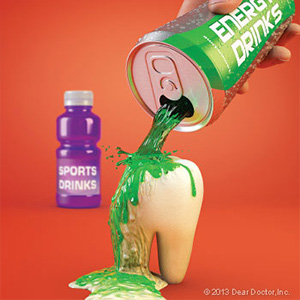 Sports and energy drinks — two different types of popular beverages. But though different they have one thing in common: they can both wreak havoc on your tooth enamel.
That's because each contains high concentrations of acid. And acid is tooth enamel's mortal enemy — prolonged exposure with it causes the minerals in enamel to soften and erode, a process called de-mineralization.
Demineralization becomes even more pronounced when the mouth's pH levels fall below 4.0 into the acidic range. A sampling of various brands of sports and energy drinks reveal mean pH levels below even that threshold. Energy drinks are especially harmful to enamel because the type of acid they contain is more concentrated.
So, what can you do to minimize this threat to your dental health? The optimal thing to do is avoid such beverages altogether, especially energy drinks. If you currently re-hydrate after hard work or exercise with sports drinks, consider switching to water, nature's hydrator.
If you do, however, continue to drink these beverages, then follow a few precautions to lessen the acidic levels in your mouth:
Wait until mealtimes. Saliva is your body's way of neutralizing acid in your mouth, but it takes about 30 to 60 minutes for it to fully buffer acid. If you're sipping between meals on acidic beverages, saliva can't keep up. So, wait until you eat or limit your sipping time on a drink.
Rinse with water. Since water's pH is neutral, swishing some in your mouth right after drinking a sports or energy drink will help reduce acidity.
Wait an hour to brush. Your enamel will begin demineralizing as soon as it encounters acid. If you brush right away you could be sloughing off miniscule amounts of softened minerals. By waiting an hour you give your saliva time to buffer and help re-mineralize the enamel.
Although popular, especially among teenagers and young adults, overindulgence in sports and energy drinks could damage your teeth and increase your risk for tooth decay. With a little moderation and common sense, you can keep your enamel strong and healthy.
If you would like more information on the effects of sports and energy drinks on dental health, please contact us or schedule an appointment for a consultation. You can also learn more about this topic by reading the Dear Doctor magazine article "Think Before you Drink."
By North Suburban Endodontics
January 02, 2018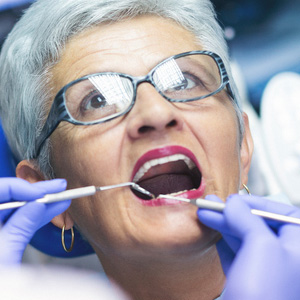 As we age we become more susceptible to dental diseases. A common but often initially unnoticed problem for seniors is root decay.
We're all familiar with tooth decay in the crown, the visible tooth above the gum line. Bacteria feeding on leftover sugar in the mouth produce acid, which at high levels erodes the teeth's protective enamel. This forms cavities and, if untreated, deeper infection within the tooth that could reach the bone via the root canals.
But decay can also directly attack a tooth's roots below the gum line. Roots are made of dentin and covered by a very thin layer of mineralized tooth structure called cementum.  Cementum, which is much softer than enamel, is often lost because of its thinness, thus exposing the root's dentin. This can make the area more susceptible to decay than the enamel-covered crown. Normally, though, the roots also have the gums covering them as added protection against bacterial infection.
But gum recession (shrinkage), a common experience for people in their later years, can expose the root surfaces. As a result, the roots become much more susceptible to decay. And an ensuing infection could spread more quickly into the interior of the tooth than decay originating in the crown.
That's why it's important to remove the decayed material and fill the root cavity to prevent the infection's spread. While similar to a crown filling, the treatment can be more difficult if the root cavity extends below the gum line. In this case, we may need to perform a surgical procedure to access the cavity.
There are other things we can do to help prevent root cavities or limit their damage. We can apply fluoride varnish to strengthen the teeth and provide extra protection against cavities, or prescribe a fluoride rinse for use at home. We can also keep an eye out and treat periodontal (gum) disease, the main cause for gum recession.
The most important thing, though, is what you do: brush and floss thoroughly each day to remove bacterial plaque and limit sugary or acidic foods in your diet. Preventing decay and treating cavities as soon as possible will help ensure you'll keep your teeth healthy and functional all through your senior years.
If you would like more information on preventing and treating tooth decay, please contact us or schedule an appointment for a consultation.